By Rebecca Bollwitt, Miss 604.com, Tuesday July 7th, 2020
The Queer Arts Festival WICKED takes place July 16-26, 2020 online, with 11 days of events, which are all by donation. WICKED reimagines identity politics, exposing the implications of homonormativity as erasure.
I had the opportunity to speak with acclaimed dance artist Noam Gagnon, who over the course of his career, has helped push Canadian dance into the forefront of the international stage. Now during this time of COVID-19 and an evolving arts media landscape, artists like Noam are looking at their mediums and methods in a new light.
This Crazy Show at the Queer Arts Festival
Get tickets here for July 25 at 7:00pm / July 26 at 2:00pm
(RSVP by donation)
My Zoom experience will never be the same. I logged on and met Noam for a chat to talk about his rehearsal, his show, and the Queer Arts Festival.
"It's been a very productive period for me," Noam told me right off the bat. "I feel lucky that I am working on a solo because the last piece I was working on was with 10 amazing young dancers. So, to be able to work on a solo right now is a perfect opportunity." In This Crazy Show he says he will be dancing with "me, myself and I" … and about 16 disco balls.
The Show was originally produced in 2016 as Noam's swan song, and it was the last time he danced. The extremely fit 50-something who dances like a 30-something, thanks to his pilates practice and choreography career (see: photo above), said that getting his body back into the groove for dance was a process in itself.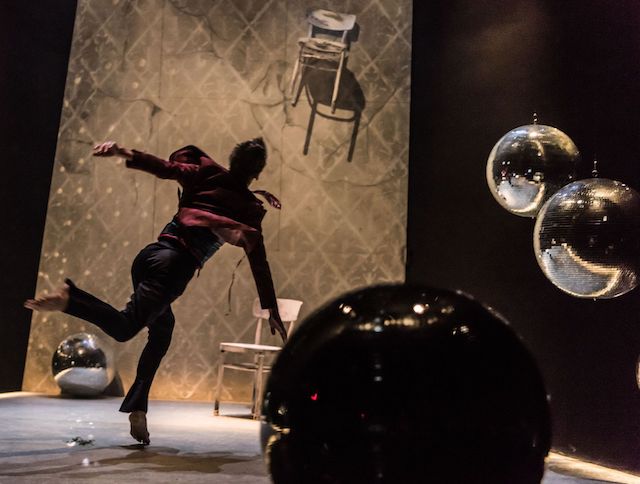 Back to Dance
"It felt like a long time. The floor seemed so far away. 'How do I do this again?' There was a lot of trial and error, a lot of humour. I had a fun process I have to say, but not without difficulty because the work in itself is quite challenging — quite demanding physically and emotionally."
The Queer Arts Festival had asked Noam to perform for a few seasons and the timing just didn't line up. For 2020 he says everything came together. "The theme of the whole festival – WICKED – is just perfect for This Crazy Show. [QAF] creates an image from a certain point of view with each of their festivals and I think this one is just the perfect fit."
Noam has danced and toured all his life and since starting the next chapter of his career, he feels he's passing on information to the next generation to help them grow.
"I wanted to create something bigger than myself… I'm 57, I see things a certain way, I perform a certain way, yet as an artist and as a human being I still want to find a way to keep an evolution."
Noam described his physical, mental, and emotional struggles, throwing himself to the floor, retraining his body with these movements and asking himself how to accomplish a task in a new way, a way he hadn't done it before. "How do I bring myself back to who I am? Literally after four years I was all in."
A Sense of Play
"It's what we can do as artists, as human beings above all, it's the power of creating a space for people to travel, to invite them to be part of something that is bigger than them, where they can feel safe and that they can belong for an hour."
"I had to allow myself to play…It doesn't matter how old you are, it doesn't matter who you are, the process is a process and it's part of anything we do, anything of value, and anything of value requires effort. Then it's just a question of putting in your time, pulling up your sleeves, and being patient, and playing."
During our conversation I was inspired by his passion and work ethic – I also had never laughed or cried so much during an interview. Humour is a huge part of Noam's personality but as he admits, it is slightly askew which is in itself a metaphor for life's duality; He balances life's lighter and darker moments.
"Do what you do, don't hold back, give what you can, share what you can, you're designed for it. You can't please everyone just be. Just be. Give from your heart. That's my strength – and sweating. Now that's my superpower!" he said with a charming chuckle.
The Online Experience
There won't be a live audience for This Crazy Show, which is another challenge, but the thought of the show reaching far beyond the walls of a theatre, is an exciting one for Noam.
"This show will have even more opportunities because not everyone can be at the theatre, it's a 200 seat theatre and who knows, there may be someone in a small town somewhere that will see it — a kid would not have been in the theatre."
That prospect is exhilarating, but it's balanced by the feeling of trepidation, the thought of not having that crowd to play off of. Noam says that it's hard not to have that instant feedback, that symbiotic relationship with a live audience, because as a performer he can feel it and he knows instantly when something falls flat.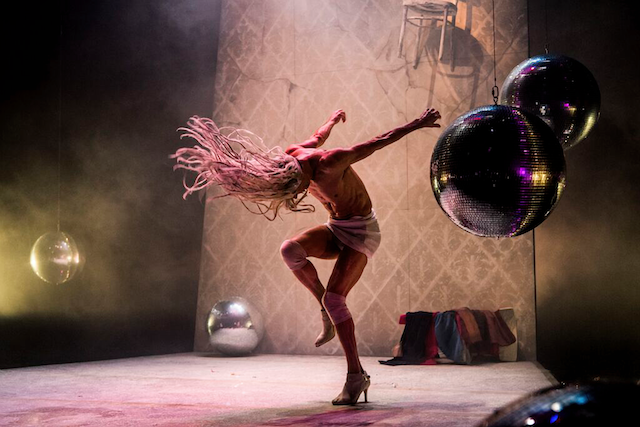 This Crazy Show
This Crazy Show is inspired by the film Léolo (1992) from Montreal, where imagination is more than an escape. Noam describes it "like a magpie stealing stories from others in order to create a vortex where it makes its power more powerful." He says it's about the power of imagination as a source of survival, but also a power for creating change – he often thinks about the moment he understood that.
"For me my dance career, my artistic life, internally, mentally, it has made me a better human being. It has allowed me to transcend." He quoted Albert Einstein:
Imagination is more important than knowledge. For knowledge is limited, whereas imagination embraces the entire world, stimulating progress, giving birth to evolution.
In a world of darkness, we have to fight for light. That's another one of Noam's quotes. There were so many insights packed into one Zoom call, I can only imagine how moving the actual dance performance will be July 25 & 26. I imagined Noam throwing himself to the floor. I imagined the disco balls.
I thought of the magpie.
"I feel blessed, I feel lucky, and I feel I've been given this opportunity and I hope that I can move, that this can have the power that it has had on me through this process, to understand the power of imagination."
He looked into the camera and said 'you are loved'. I'm not sure he was telling me that or just saying that in a general sense, but I felt it. I think it was for everyone, even himself.
"Know that you are loved for who you are, and be who you are, and love who you are. No one else is there to do it for you. The representation of what you give yourself is going to be represented outwardly, it doesn't work any other way. It's easier said than done and it's a whole journey of trial and errors but you've got to do it. Better doing that than living on the other side."
It was one of the best Zoom calls I've had throughout all of this COVID isolation. We started to sign off, I thanked him for taking time out of his rehearsal schedule to talk to me.
He said, "There is love out there and to me, it is all."
Miss604 is a proud sponsor of the 2020 Queer Arts Festival.