BY JANET SMITH, STIR VANCOUVER
AS WILDFIRES rage across BC, a timely performance this weekend will ignite discussion—along with a piano
Full Circle First Nations Performance and the Queer Arts Festival's presentation of Piano Burning, in which star musician Rachel Kiyo Iwaasa will play a new piece commissioned from Lil'wat composer Russell Wallace—all while her keyboard goes up in flames.
Drawing on the idea behind New Zealand composer Annea Lockwood's Piano Burning, a composition that called for a pianist to set the instrument alight, this presentation puts a timely new lens on the idea: here, the collaborating artists—curated by SD Holman and Margo Kane—reframe the fire that engulfs the piano (a symbol of colonial European culture) as a metaphor for striving toward decolonization. The act also refers to the banned fire rituals from Indigenous cultures.
There's much, much more to the performance. Here are five things to know about it:
#1: Annea Lockwood's original 1968 composition directs the performer to soak paper in lighter fluid, set it alight, and drop it into the piano. She asks that the performer use an upright piano that is beyond repair, saying, "Piano burning should really be done with an upright piano; the structure is much more beautiful than that of a grand when you watch it burn." Balloons may be stapled to the structure, and the pianist can play whatever pleases them, for as long they can. The New York Times has called Lockwood a "composer of audacious experimental works on the border of musical performance and conceptual art."
#2: Métis womenswear designer Evan Ducharme has created a fireproof red ballgown for pianist Iwaasa to don during the performance. Ducharme launched an eponymous clothing label a decade ago, and has built a name designing through Indigenous perspectives on gender, queerness, and environmental responsibility. You've seen Ducharme's work at Indigenous fashion week, and on the pages of Vogue.com.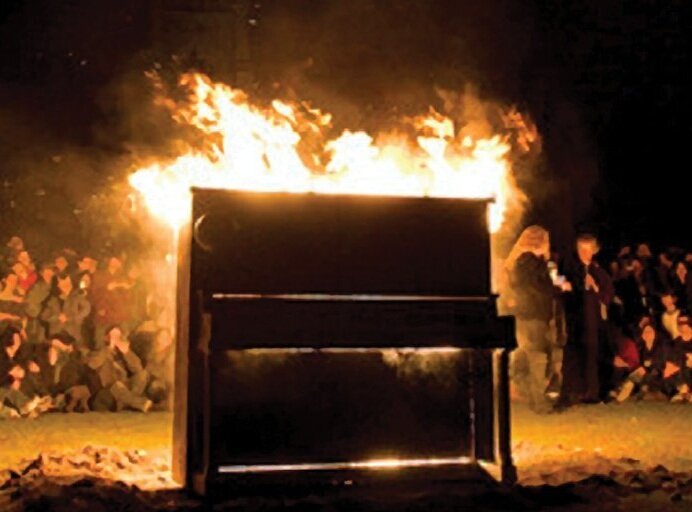 #3: What exactly does it sound like when a piano goes up in flames? The performance will amplify the experience. Along with Wallace's music, you'll hear what's described as "a variety of pitched and unpitched sounds as the piano strings heat and break." If there are balloons, expect popping near the end. And visually? Past piano fires have been described as slow burns, layer after layer disintegrating, sometimes with coloured flames due to different varnishes.
#4: Russell Wallace is a composer, producer, and traditional singer from the Lil'wat Nation, with music heard across film and TV soundtracks and theatre and dance productions across the continent. Wallace also has a way with words, as one of the founding members of the Aboriginal Writers Collective West Coast and as an alumnus of the UBC Creative Writing program. He has written poetry, short fiction, theatre, and music theatre. You might remember him the artist in residence at the Vancouver International Jazz Festival in 2019.
#5: Organizers say they are drawing directly upon calls from the United Nations Declaration on the Rights of Indigenous Peoples and the Final Report of the National Inquiry into Missing and Murdered Indigenous Women and Girls. Article 11 of the former emphasizes Indigenous peoples' right to "practise and revitalize their cultural traditions and customs. This includes the right to maintain, protect and develop the past, present and future manifestations of their cultures, such as…designs, ceremonies, technologies and visual and performing arts and literature". Meanwhile, the latter report calls for "safe and dedicated ceremony and cultural places and spaces for 2SLGBTQ+ youth and adults, and to advocate for 2SLGBTQ+ inclusion in all cultural spaces."