TANYA COMMISSO | SAD MAG | JULY 13, 2020
Shane Sable wasn't intending to form Canada's first Indigenous burlesque collective while on a hiatus from her performance career. Yet in May 2016, that's exactly what she started to do. Virago Nation was born when Sable reached out to fellow members of the burlesque community—Ruthe Ordare, RainbowGlitz, Sparkle Plenty, Scarlet Delirium, Manda Stroyer—seeking connection with Indigenous creatives.
"I was looking for motivation and meaning in the work I was creating, says Sable. "One of the barriers I was facing was not being able to integrate my performance self with my Indigenous self, so we talked about why that was – why none of us represented our full selves as Indigenous performers in that space."
Though each member has their own diverse story, they connected over their experiences with Indigeneity and colonization as performance artists. Quickly realizing the need for explicit representation in the burlesque community, Virago announced their official formation as an all-indigenous collective in December 2016.
This year, they will be performing for the first time at the Queer Arts Festival (QAF) as part of WICKED 2020, with special guests Monday Blues and Lynx Chase.
Sable says audiences can expect a bombastic show, celebrating the multifaceted nature of Indigenous beauty and sexuality. On July 17, their performance will be streamed on queerartsfestival.com, making it one of Virago's most accessible performances to date.
"Something that we are positioned to do that other [burlesque] groups aren't is to open up avenues of accessibility for underserved communities, like Indigenous folks, like people in more rural areas," Sable says. "The nature of our work is fundamentally political in a way that can only be communicated by folks with lived experience."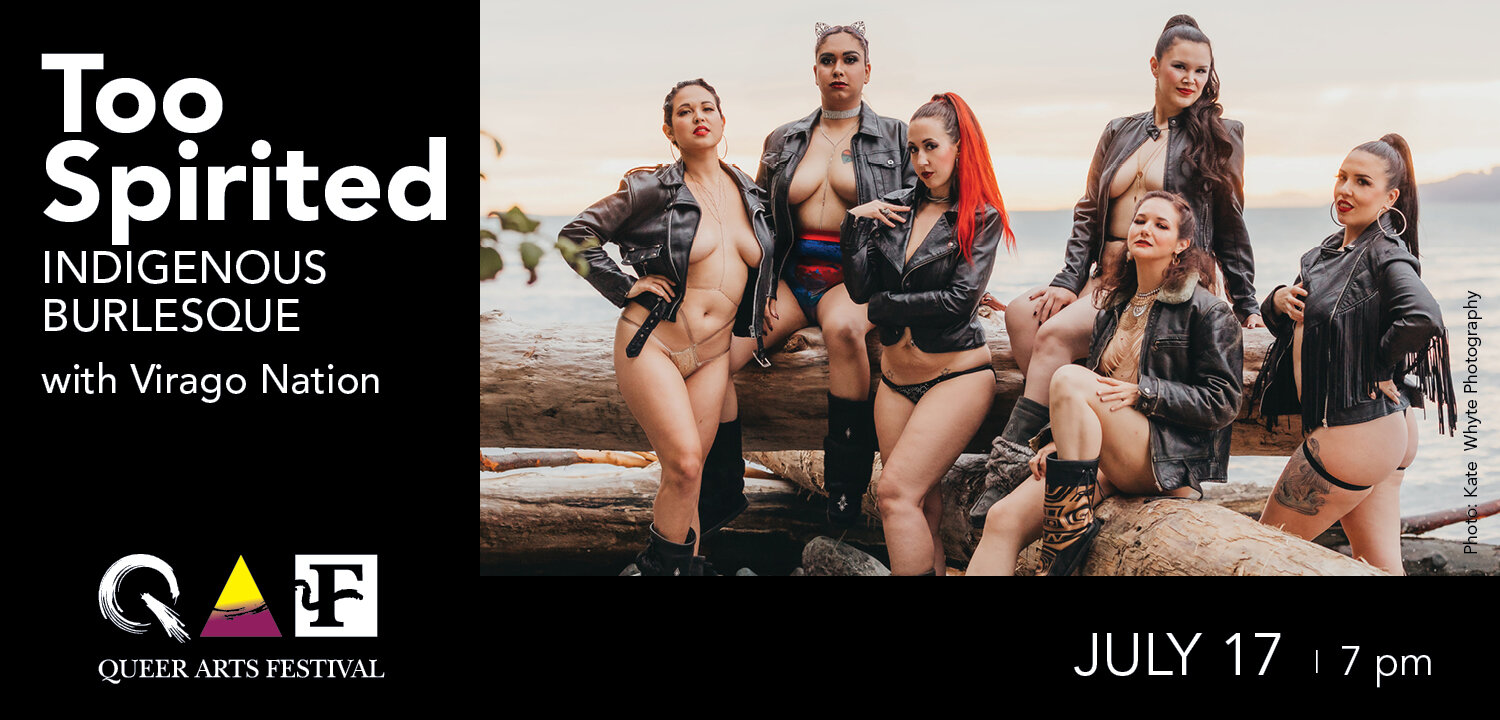 As a happy coincidence, most of the members of Virago Nation also identify along the LGBTQ2+ spectrum, making QAF an apt venue for their work.
"It's not just that we're providing representation for Indigenous people, it's that we're further providing representation for Indigenous people who don't identify with the colonial binary of sexual identity."
QAF has a history of Indigenous representation and inclusion, beginning with festival co-founder Robbie Hong, who identifies as Two-Spirit. It is this history that makes Sable not only proud to perform as part of the festival, but also to serve as the Two-Spirit programming coordinator for the organization.
The Queer Arts Festival's move to digital in response to the current COVID-19 pandemic has inspired the festival to rethink ticket prices and instead offer admission to all shows by donation. It's a move that Virago welcomes as they continue to find ways to make their shows more accessible to the audiences who need them the most.